It was a day full of enlightenment, hugs, photos, high-fives, handshakes, and cheers, including from former Vice President Joe Biden and U.S. Sen. Cory Booker. The two presidential hopefuls couldn't help but be mooved by PETA's "climate change cow" on Saturday at the New Hampshire Democratic Party convention. Biden said hello to our "cow"—who was there to remind all candidates that going vegan and helping our planet go hand in hand. And he exclaimed, "That's about right," after reading our "Go Vegan or We All Die" sign.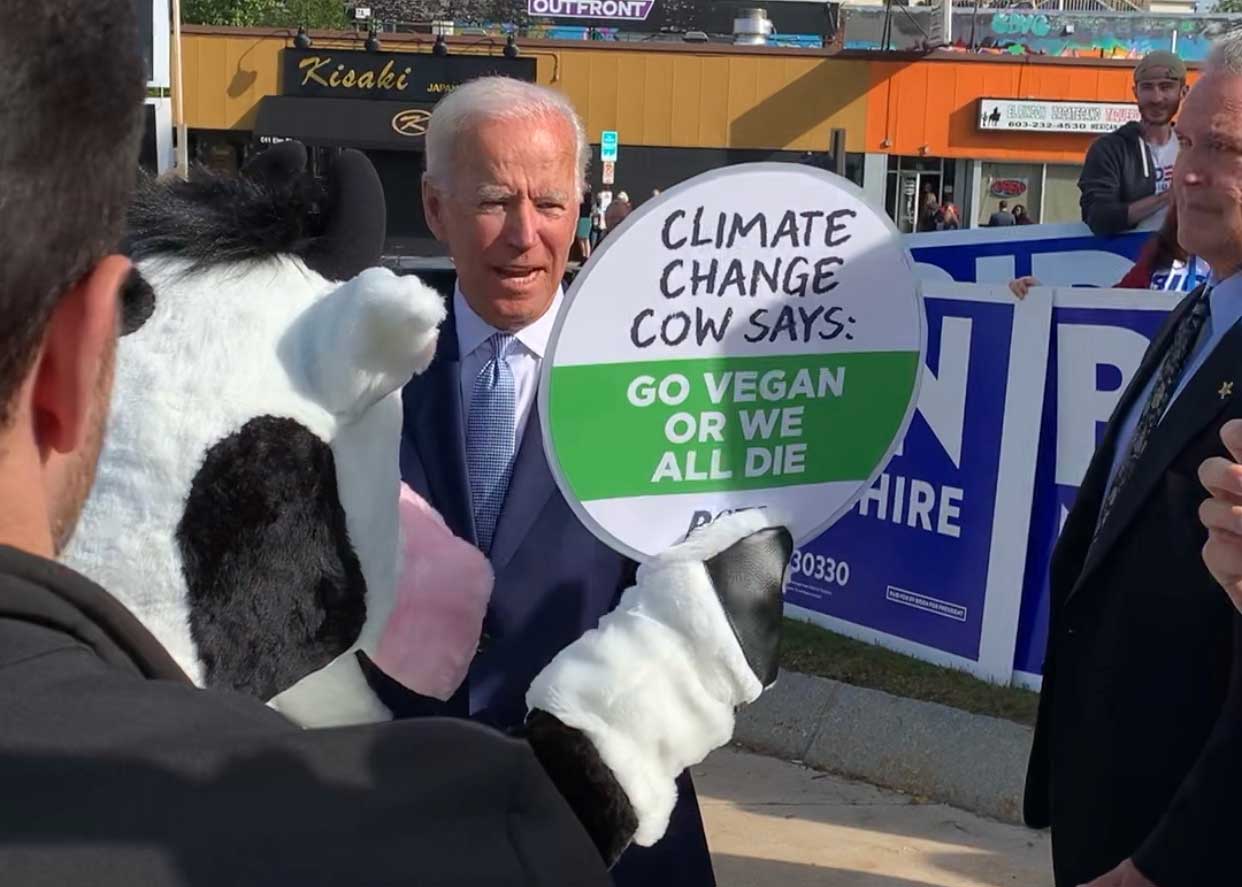 Booker—who's known for his ethical politics—greeted our "climate change cow," too. "My vegan people! PETA!" the senator called out as he shook her extended hoof.
The moment vegan Senator @CoryBooker and PETA's Climate Change Cow shake hands 'cause they both know going #vegan is the future. #NHDemConvention

[PETA does not endorse or oppose any candidate or party for public office.] pic.twitter.com/IB8zPkB0st

— PETA (@peta) September 7, 2019
The "cow" and our pro-vegan message were visible throughout the convention, reminding the thousands of attendees that production of both meat and dairy is destroying our planet—and that going vegan is the most responsible thing individuals can do if they care about animals, their children and grandchildren, the Earth, or their arteries.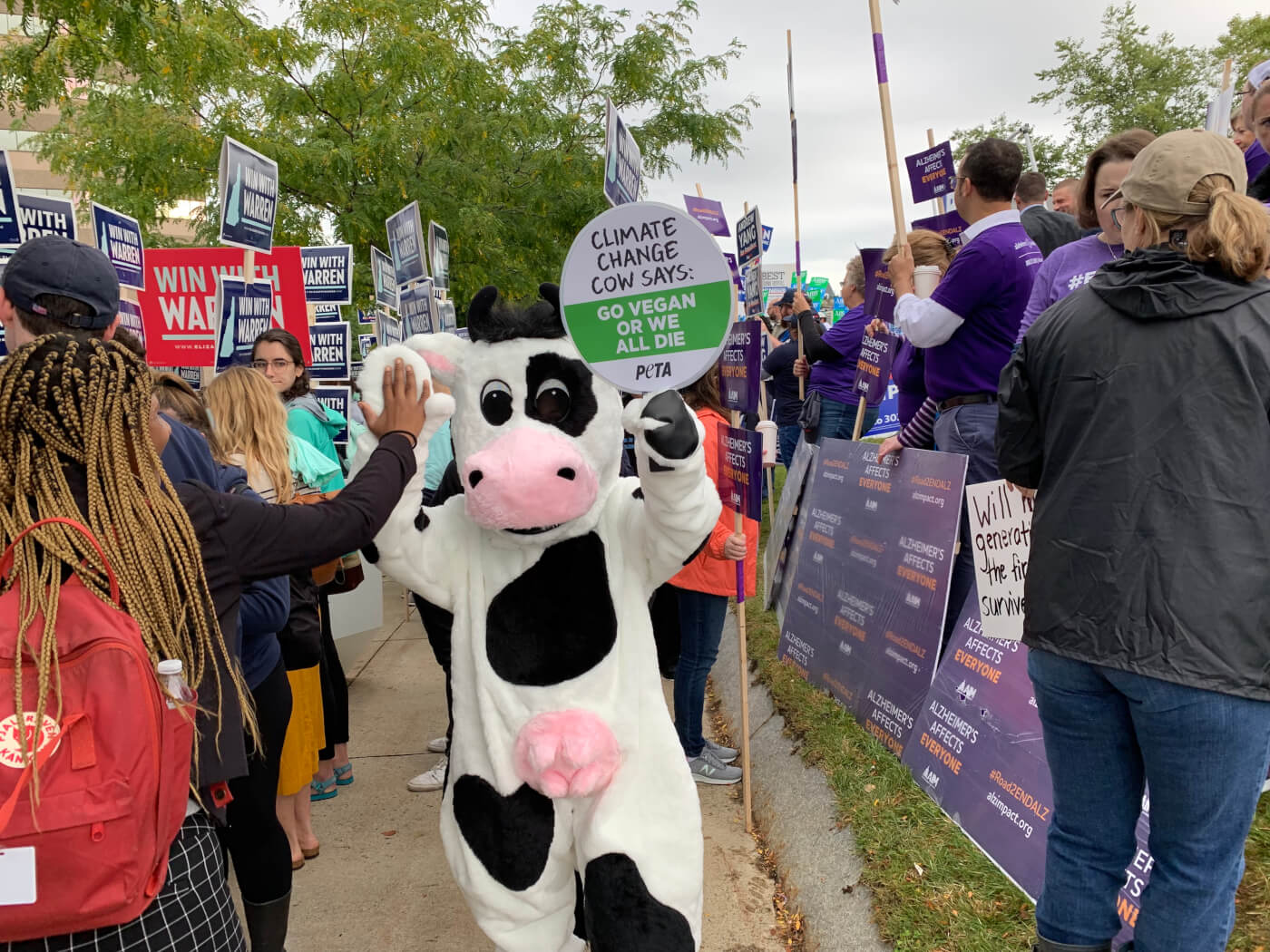 The meat and dairy industries are guzzling up natural resources, spewing out contaminants, and wreaking havoc on our planet's weather. They're also decimating land and wildlife—and not just in the Amazon rainforest.
Our "climate change cow" will also be at many other events—both Republican and Democrat—to urge everyone to embrace a vegan way of life in the face of the climate crisis.
A recent analysis of the food system's impact on the environment stated that a massive reduction in meat-eating is essential in order to avoid dangerous climate change, including cutting beef consumption by 90% and cow's milk consumption by 60% in Western countries. More than 90% of the Amazon rainforest that's been cleared since 1970 is used for meat production, which is a major contributor to pollution, land degradation, water shortages, and habitat destruction. A global shift to vegan eating is necessary to combat the worst effects of climate change, as animal agriculture alone is responsible for nearly one-fifth of human-induced greenhouse-gas emissions.
Do Your Part: Go Vegan
The meat and dairy industries are poisoning the planet—and if you still eat animal-derived foods, so are you. Make the kind decision to go vegan today:
Order a Free Vegan Starter Kit
Already vegan? Right on! Help your friends and family make the transition to meat- and dairy-free eating, too:
Order a Vegan Starter Kit for a Friend
Note: PETA supports animal rights, opposes all forms of animal exploitation, and provides the public with information on those issues. PETA does not directly or indirectly participate or intervene in any political campaign on behalf of or in opposition to any candidate for public office or any political party.
The post Joe Biden, Cory Booker Chew the Cud With PETA's 'Climate Change Cow'—Wow! appeared first on PETA.